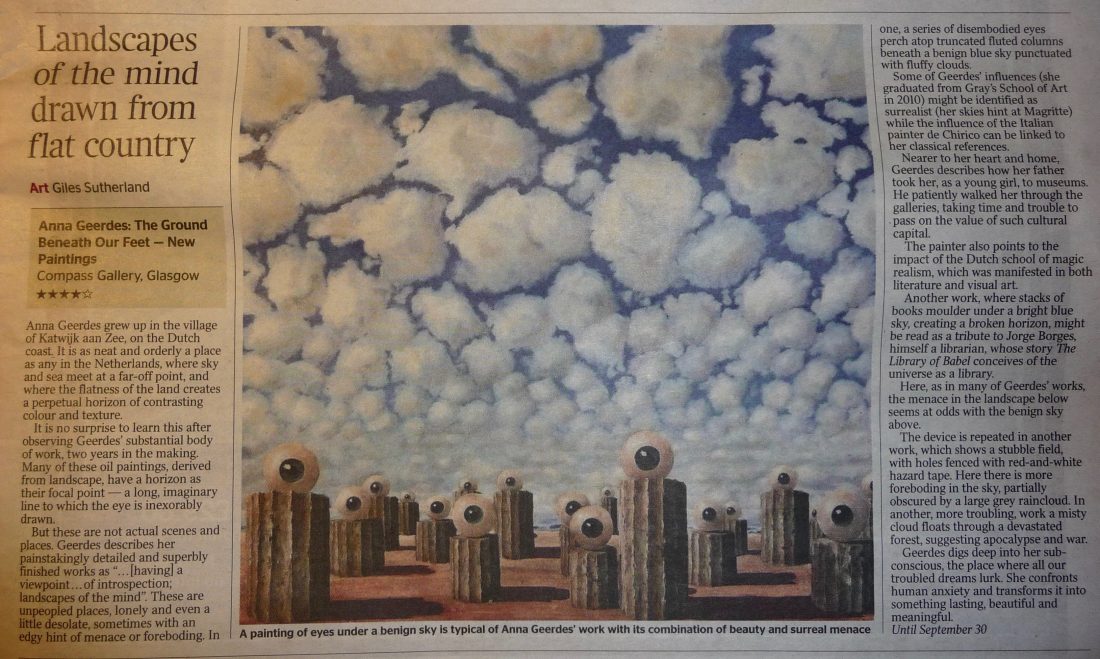 The Ground Beneath our Feet Exhibition 2017 Review
As reviewed by The Times:
Art: Anna Geerdes: The Ground Beneath Our Feet — New Paintings at the Compass Gallery, Glasgow
Landscapes of the mind that are drawn from a flat country
Giles Sutherland
September 12 2017, 12:01am, The Times
★★★★☆
Anna Geerdes grew up in the village of Katwijk aan Zee, on the Dutch coast. It is as neat and orderly a place as any in the Netherlands, where sky and sea meet at a far-off point, and where the flatness of the land creates a perpetual horizon of contrasting colour and texture.
It is no surprise to learn this after observing Geerdes' substantial body of work, two years in the making. Many of these oil paintings, derived from landscape, have a horizon as their focal point — a long, imaginary line to which the eye is inexorably drawn.
But these are not actual scenes and places. Geerdes describes her painstakingly detailed and superbly finished works as ". . . [having] a viewpoint . . . of introspection; landscapes of the mind". These are unpeopled places, lonely and even a little desolate, sometimes with an edgy hint of menace or foreboding. In one, a series of disembodied eyes perch atop truncated fluted columns beneath a benign blue sky punctuated with fluffy clouds.
Some of Geerdes' influences (she graduated from Gray's School of Art in 2010) might be identified as surrealist (her skies hint at Magritte) while the influence of the Italian painter de Chirico can be linked to her classical references.
Nearer to her heart and home, Geerdes describes how her father took her, as a young girl, to museums. He patiently walked her through the galleries, taking time and trouble to pass on the value of such cultural capital.
The painter also points to the impact of the Dutch school of magic realism, which was manifested in both literature and visual art.
Another work, where stacks of books moulder under a bright blue sky, creating a broken horizon, might be read as a tribute to Jorge Borges, himself a librarian, whose story The Library of Babel conceives of the universe as a library.
Here, as in many of Geerdes' works, the menace in the landscape below seems at odds with the benign sky above.
The device is repeated in another work, which shows a stubble field, with holes fenced with red-and-white hazard tape. Here there is more foreboding in the sky, partially obscured by a large grey raincloud. In another, more troubling, work a misty cloud floats through a devastated forest, suggesting apocalypse and war.
Geerdes digs deep into her sub-conscious, the place where all our troubled dreams lurk. She confronts human anxiety and transforms it into something lasting, beautiful and meaningful.
Until September 30